Tailgate Blitz Slots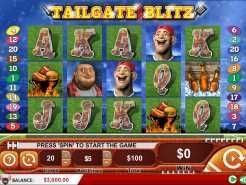 Play Now
Tailgate Blitz Slots is a wonderful game that just about every football fan participates in. Whether it's a college game or an NFL game, there are always Tailgaters who pack up their best meals and enjoy the game from the parking lot. This is such a fun game to play in this genre, that we invite all of our online players from the US to play it at Crazy Slots Casino.
About the Game
Tailgate Blitz is a 5-reel, 20-payline bonus video slot. The max number of coins is $5, with a max bet of $100 per spin. Lower coin values are certainly available. There is an Auto Play button as well as the pay table, which we suggest you read to further succeed in this game.
Playing the Game
In this game, you will find a Wild symbol and a Scatter symbol. The Tailgate Blitz Logo is the Wild symbol and will assist you in forming winning combinations. When you get all five Logo symbols, you'll win 5000 coins. The Scatter is the Dollar sign and if you get all five of this symbol, you will win 100xs your bet. If you get all five of the Beer and the Barbecue symbols, you will win 500xs your bet. There is also something new in this slot - a Scratch Game. It is known as the Tailgate Cash Bonus Feature. Also keep in mind that all pay line wins are multiplied by the amount bet per pay line.
The Tailgate Cash Bonus Feature
When you get three or more Dollar symbols, you will trigger the Tailgate Cash Bonus feature. Here's how this Scratch feature works: When you get 3 Scatter symbols, you will be asked to Scratch 2 prizes; When 4 Scatters appear on the reels, you will be asked to Scratch 4 prizes; and when 5 Scatters appear on the reels, you will be asked to Scratch 7 prizes.
Conclusion
Tailgate Blitz Slots is available to play on your mobile device, which is a super way of playing on the go at any sports game. The Scratch game is a new idea that may be welcomed by online slot players. Let's see how much they actually win on these scratches.